S&S Concrete Project Gallery
S&S Concrete Floors has created some of the nation's highest quality superflats, tilt-ups and concrete placements. Located in New Ipswich, New Hampshire, S&S Concrete primarily works in a 9-state area (New Hampshire, Maine, Massachusetts, Vermont, Connecticut, Rhode Island, New York, Pennsylvania and New Jersey).

In conjunction with its sister company – ACE/AVANT (Archdale, NC) – S&S Concrete can readily provide contract services from Maine to Forida and throughout the country. Visit the ACE/AVANT web site here.

The projects below represent a small sample of the work S&S Concrete Floors has completed across New England. Additional projects that demonstrate our expertise will periodically be added to this page. Click here for more information about any of our services.
| | |
| --- | --- |
| Project Highlights | Click project title to view gallery |

SOG: Slab On Grade SOD: Slab On Deck
FW Webb CD (Londonderry, NH)

General Contractor:

Greenleaf Construction

Concrete Placement:

687,000 s.f. of Joint Free SOG
10,000 s.f. of Truck Maintenance Area
50,000 s.f. of Office SOG
36,000 s.f. of Slabs on Metal Deck
105,000 s.f. of Exterior Concrete Paving
14,000 s.f. of Sidewalk







CBD Superflat Addition (Peabody, MA)

General Contractor:

Dacon Corporation

Concrete Placement:

37,500 s.f. of 9" F-MIN 100 Superflat
30,000 s.f. of 9" Turn-Around Slab with Shake on Hardener

Other Project Details:

Ashford

This project won a Golden Trowel Award with an achieved tolerance of: F-MIN L 169.5 / F-MIN T 175.2



E-Commerce Fulfillment Center (Fall River, MA)

General Contractor:

RC Anderson

Concrete Placement:

1,000,000 s.f. SOG
210,000 s.f of slab on metal deck
123,000 s.f. exterior concrete paving

Other Project Details:

Foundations and Ashford



LKQ Distribution Center (Sterling, MA)

General Contractor:

Rock Breakers

Concrete Placement:

119,000 s.f. SOG
10,000 s.f. of Exterior Paving

Other Project Details:

Ashford




FedEx (Montgomery, NY)

| | |
| --- | --- |
| General Contractor: | Meridian Design-Build |
| Concrete Placement: | 247,000 s.f. SOG |
| Other Project Details: | Column Wraps, Foundations and Ashford |



Safran (Rochester, NH)

General Contractor:

Haskell

Concrete Placement:

340,000 s.f. steel fiber reinforced SOG
40,000 s.f. rebar reinforced SOD
29,000 s.f. exterior

Other Project Details:

Footings, foundations, Ashford and joint


Dollar Tree NEDC (Windsor, CT)

General Contractor:

Clancy and Theys

Concrete Placement:

1,000,000 s.f. rebar reinforced SOG
60,000 s.f. SOD
190,000 s.f. rebar reinforced exterior paving

Other Project Details:

Footings, walls, tilt, diamond hard






Manchester Boston Regional Airport (Manchester, NH)

General Contractor:

Continental Paving

Concrete Placement:

36,500 s.f. 8" concrete paving
184,500 s.f. 16" concrete paving



SYSCO Boston, LLC (Plympton, MA)

General Contractor:

KBR

Concrete Placement:

76,000 s.f. structural load bearing tilt-up panels
255,000 s.f. of exterior concrete paving, equipment pads and sidewalk

Other Project Details:

Engineering, joint sealing



OfficeMax® Floor Repair (Hazelton, PA)

| | |
| --- | --- |
| General Contractor: | Owner |
| Concrete Placement: | 55,000 s.f. SOG |
| Other Project Details: | Remove and replace while facility in operation. Joint repair, joint fill and polish. |


Keene State College (Keene, NH)

General Contractor:

Engleberth

Concrete Placement:

24,000 s.f. SOG
21,000 s.f. SOD
14,000 s.f. decorative sidewalk


Whelen (Charlestown, NH)

| | |
| --- | --- |
| General Contractor: | Norman Beaudry Construction |
| Concrete Placement: | 46,000 s.f. SOG |
| Other Project Details: | Polished slabs |



















Prefered Freezer (Boston/ Raynham)

General Contractor:

Campanelli

Concrete Placement:

77,000 s.f. mud slab
77,000 s.f. freezer slab
22,000 s.f. dock area
25,000 s.f. exterior paving
24,000 s.f. tilt wall panel








Walgreens NEDC (South Windsor, CT)

General Contractor:

Korte Co.

Concrete Placement:

265,000 s.f. mud slab
31,000 s.f. 4" SOG
5,960 s.f. 6" SOG
204,580 s.f. 6" SOG w/1lb trap rock hardener
105,738 s.f. 9" SOG w/1lb trap rock hardener
117,000 s.f. 20" Mat Slab
157,000 s.f. 30" Mat Slab
104,000 s.f. of ASRS aisles SOD
300,000 s.f. of exterior concrete paving

Other Project Details:

Footings and walls


SIG Sauer (Newington, NH)

General Contractor:

North Branch Construction

Concrete Placement:

4,600 s.f. SOG infills
11,000 s.f. shored structural slab

Other Project Details:

Footings


Seabrook Station Dry Fuel Storage Facility (Seabrook, NH)

General Contractor:

Hutter

Concrete Placement:

Camera Footings
38,000 s.f. of 0'-8'+ thick mud slab / pedestal
(fill from ledge to base of mat slab)
22,000 s.f. of 24" mat slab and 1/8" in 10' tolerance
(precast storage units for spent uranium rods)
16,000 s.f. of 8" Apron Pads




[ BACK TO TOP ]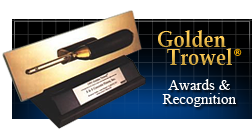 Click to View Awards












ACE/AVANT
www.aceavant.com

Somero Matson Group
www.someromatsongroup.com

Somero Enterprises
www.somero.com

Face Companies
www.faceco.com

Husqvarna
www.husqvarna.com

Allen Engineering
www.alleneng.com

Multiquip, Inc.
www.multiquip.com

Engenheria De Pisos
www.engenhariadepisos.com.br